Vacant Land & Lots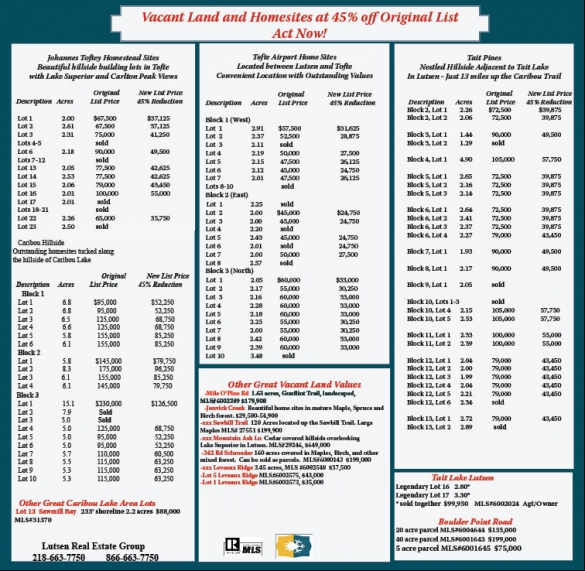 Caribou Hillside Tucked along the hillside of Caribou Lake, these homesites offer privacy, a private homeowner's association, larger lot sizes, a clean forest floor covered in a canopy of beautiful mature maple and conifers. This development is restricted to 20 homesites.
Johannes Toftey  The Johannes Toftey homestead provides the owner with carefully crafted declarations and covenants designed to protect the integrity of the project and the investment of the buyers.
Tofte Airport These home sites provide some of the greatest affordabilty & convenience in the Lutsen-Tofte area. Just 3 blocks from Lake Superior and 5 minutes from the ski area and golf course. 
The Heritage Located on the Superior National Golf Course in Lutsen, these lots are all one of a kind with many wonderful features. Great building sites in a convenient location.
Jonvick Creek Beautiful home sites in mature maple, spruce and birch forest. Some lots border Jonvick Creek, some have views of Lake Superior – all are convenient to the many recreational opportunities.  

Tait Lake Pines Secluded Wilderness best describes Tait Pines. Located off the Caribou Trail at Tait Lake – your wilderness retreat remains only 20 miles to Lutsen.  
Other Great Vacant Land Values
xxxBillie's Trail 4.9 acres, hilly terrain, views of Tait Lake, abutts Federal Land. MLS#22981 $57,750
xxx Sawbill Trail 120 Acres located up the Sawbill Trail and North of the Onion River. Large Maples abound on this property. MLS# 27551 $199,900
Lot 16 & 17 Tait Lake– Lutsen Two sub divided parcels. Towering White Pines, beautiful buiding sites. MLS#6002024 $99,950 Owner/Ag
342 Rd Schroeder 160 acres covered in Maples, Birch, and other mixed forest.  Can be sold as parcels.  MLS#6000143  $199,000
xxx LeVeaux Ridge 3.45 acres, Tofte, Birch forest, pines, Lake Superior views, MLS#6002548 $29,500
Vacant Land
55612

Beds: n/a
Baths: n/a
Square Feet: n/a
Garage: n/a
Year Built: n/a



Loading...